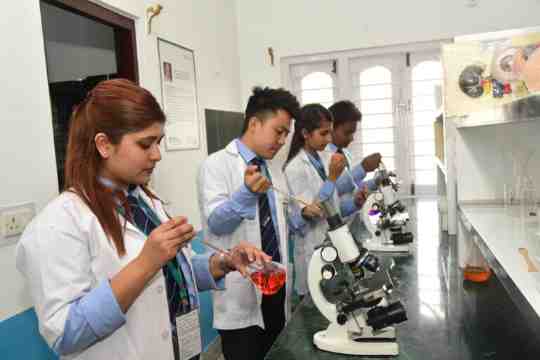 Medical Laboratory
Technician
Overview
Medical Laboratory Technician (MLT): also known as Clinical Laboratory Scientist, Medical Technologist, and Medical Laboratory Scientist.
Eligibility
10+2 (Any Stream)
Job Description
Medical laboratory technicians conduct complicated tests to diagnose, treat, and prevent disease. These individuals are accountable for aiding and assisting physicians/scientists in their daily job in a range of capacities. They serve as the primary source of support for biomedical scientists working in pathology laboratories.
Personal Attributes
Individuals in this position must display enthusiasm and an inventive approach while working as a member of a multidisciplinary team. The candidate should possess strong organizational and time management abilities, as well as an awareness of the human body's structure and physiology, particularly as it relates to the cardiovascular system.
Training Outcomes
Perform clinical skills necessary for delivering basic diagnostic services, such as collecting, transporting, receiving, accepting or rejecting, and storing blood/urine/stools/tissue samples accurately.
Analyze bodily fluids/samples.
Provide technical information concerning test results; Maintain, operate, and clean laboratory equipment.
Prepare and document medical examinations and clinical findings; and so on.
Justify the need for quality assurance in laboratory operations.
Take infection control precautions.
Assure that medical and diagnostic materials are readily available
Demonstrate ways for meeting personal hygiene requirements.
Demonstrate appropriate responses to medical and facilities crises.
Demonstrate the professional conduct, personal attributes, and characteristics of a Medical Laboratory Technician.
Demonstrate effective communication in the function of Medical laboratory Technicians by communicating accurately and appropriately.