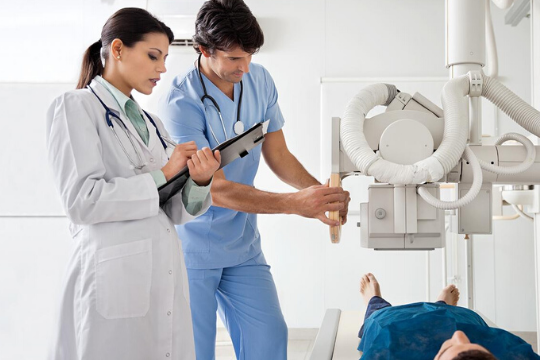 Radiology Technician
Course
Overview
Additionally, the term "radiology technician" is used to refer to a radiologic technologist.
Job Description
Under the supervision of a Radiologist, perform diagnostic imaging tests such as X-rays, CT, and MRI scans. Prepare patients and equipment for testing, maintain patient records, change equipment according to patient needs and prescribed tests, and maintain equipment. Prepare work plans for patients such as those registered for the day, those scheduled for various tests, and feedback on the equipment's quality, or manage a radiology department and aid in the general administration of the radiology department.
Personal Attributes
Radiology Technician Course students must be able to communicate well with patients and their attendants and work in a team environment. Additionally, they must be pleasant and capable of calming and placating agitated patients (and accompanying members). They must be able to stand for extended periods and must be able to lead, transport, and assist patients in reaching the testing area. to the cardiovascular system.
Training Outcomes
Demonstrate proficiency in performing diagnostic imaging exams such as X-rays, CT scans, and MRI scans under the supervision of a radiologist.
Demonstrate how to prepare patients for radiographic scans.
Demonstrate an ability to comprehend and ascertain the patient's radiological demands.
Demonstrate proper procedure preparation by preparing the environment and patient for the operation.
Demonstrate the use of radiological safety precautions.
Demonstrate an understanding of darkroom procedures.
Demonstrate the ability to identify and correct flaws in radiographs.
Demonstrate etiquette and strategic communication abilities, grooming abilities, professional etiquettes, and leadership characteristics.
Demonstrate knowledge and proficiency in radiography procedures and positioning.
Demonstrate competency in managing patients and departments in the radiological area.